The Fed Spells Out Its Goals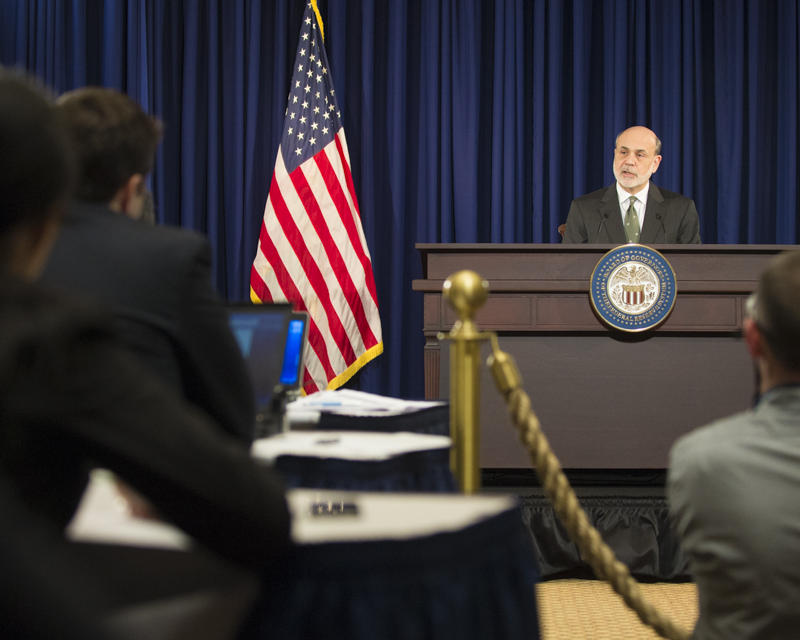 (Image of Federal Reserve Chairman Ben Bernanke via the Federal Reserve twitter feed)
Today the Federal Reserve took another step toward instituting its new, more accommodating monetary stance with the announcement of explicit economic benchmarks for its stimulus programs.
Following the recommendations of Chicago Fed president Charlie Evans, the Federal Open Markets Committee said that it will continue buying large amounts of bonds and keep short-term interest rates near zero until either unemployment falls below 6.5 percent or projected inflation rises above 2.5 percent.
This announcement is a natural follow-up to the Fed's September decision to move from discretionary bond purchases (in the form of QE2 and Operation Twist) to a more rules-based system in which it focuses on the outcomes it wants to see, rather than the actions it will take.
In its September statement, the Fed established a simple rule: it would continue buying bonds and keeping interest rates low as long as the labor market hadn't "improve substantially." In today's statement, it spelled out just what "substantial improvement" means: unemployment below 6.5 percent (it's 7.7 percent right now).
Given that the Congressional Budget Office estimates that unemployment would be about 6 percent if fluctuations in aggregate demand weren't a factor, a goal of 6.5 percent unemployment is not necessarily radical. The acknowledgement that inflation expectations could rise as high as 2.5 percent (which they almost immediately did, following the announcement) is more of a bold step. Considering that Chairman Bernanke and co. have spent the past three years or so convincing Wall Streeters paranoid about inflation that the Fed would allow no more than 2 percent inflation – and even have let inflation run well below 2 percent for much of that time, it's a noteworthy signal of the confidence the Fed has in its own strategy to promote real growth.
Related Articles