The Mercatus Center's Veronique de Rugy sheds light on the Farm Bill:
The Senate has just approved the 2012 Farm Bill, which will cost nearly $1 trillion over ten years. It's a little-known fact about the bill that 80 percent of it is spent on the food-stamps program, renamed the Supplemental Nutrition Assistance Program, or SNAP.
Four out of every five dollars in the currently debated bill—roughly $80 billion per year—will be spent on groceries bought with food stamps for one in every seven Americans. An estimated 45 million Americans received food stamps in 2011 at a cost of $78 billion. That's a two-fold increase from just five years ago, when 26 million people received benefits at a cost of $33 billion.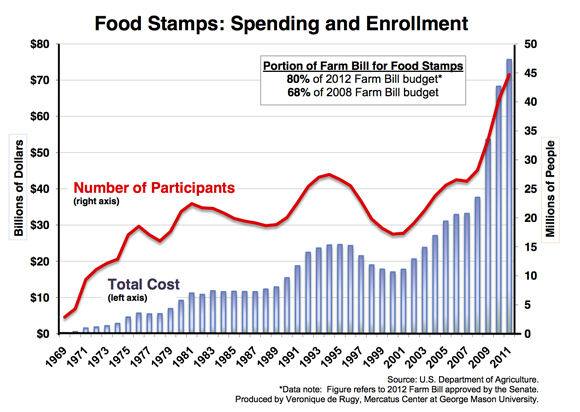 Read de Rugy's piece at the Mercatus Center's page.